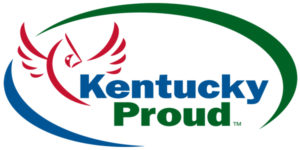 BarrelHeadsKY is proud to announce that we are now officially certified as a Kentucky Proud product!  Kentucky Proud is recognized as the symbol of quality products raised or made in Kentucky by Kentuckians. BarrelHeadsKY is honored to be a Kentucky Proud member.
We source all of our reclaimed bourbon barrels direct from distilleries around the Bluegrass state.  All of our products are reclaimed and refinished by Kentucky artisans in our Lexington warehouse.  Currently, all of our barrels, barrel heads, and barrel stave products are hand-painted with Kentucky-themed flair.
Buying Kentucky-made products decreases this distance your products travel and ensures that you're getting the best quality while supporting Kentucky's hard-working families. Buying local products strengthens our local economy by keeping dollars at home and building a sense of community during the process.
Kentucky Proud is not only a way to provide wonderful products for your loved ones, but it is an investment in Kentucky's land, people and its future.
So buy Kentucky Proud…Nothing Else Is Close.