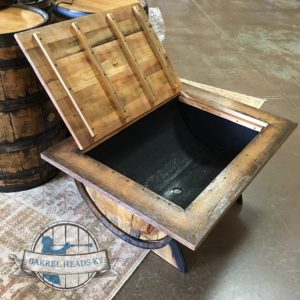 Bourbon barrels are designed to hold a very specific Kentucky liquid, liquor-ey goodness.  But what is you could use a barrel to store other things?  Like your television remote.  Or maybe that soft blanket you like to snuggle up on the couch with?  Introducing our latest creation, the bourbon barrel coffee table!  Made from a real barrel that was used in the making of bourbon whiskey in Kentucky, and white oak, this unique piece of furniture will impress all of your friends, neighbors, and bourbon aficionados.
Production of this new table will continue, but for the immediate time frame, all of our bourbon barrel coffee tables will be available by special order only.  We are also happy to customize them with any of our Kentucky-themed designs or a logo of your own!
We reclaim these used barrels and seal and reinforce them to insure longevity. Each barrel is totally unique, and door pull and hinge hardware can be customized.  The interior of the barrel is lightly sanded and then sealed, so you can still see, smell, and feel the texture of the char without getting any of your items stored inside the table dirty.  Each barrel is hand-made by Kentucky artisans with local KY style and flavor.
BarrelHeadsKY.com is a subsidiary of Lexington Furniture Company. Our store has been a staple of the Lexington, KY community for over 50 years. Our original location opened in 1960 on land that is now the site of Rupp Arena and Heritage Hall.  We produce a line of products from reclaimed bourbon barrels that were used in the production of bourbon in Kentucky.  All of our products are manufactured by artisans in the state of Kentucky.  A Kentucky Proud product.