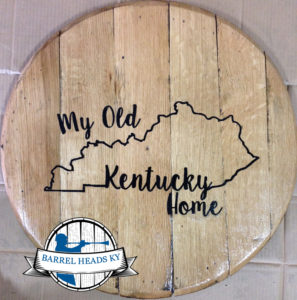 You can now find some of our awesome barrel head products at Peggy's Gifts in Lexington, Kentucky!
Peggy's is packed with wonderful gifts to celebrate any occasion.  They feature a fun selection of jewelry, totes and purses, and chic accessories for your home and entertaining needs.  As an added free service, Peggy's friendly staff is happy to wrap all your gifts in their signature dot paper.  They specialize in personalizing gifts and are happy to offer suggestions.
Our custom barrel heads make a great addition to their showroom.  They are now offering all of our custom wedding barrel heads and even created their own custom design.  This My Old Kentucky Home barrel head is unique with their own handwriting and can be purchased at their 112 Clay Avenue location.
If you are looking for a unique gift, a barrel head from Peggy's is the way to go… Check them out!