Looking for a unique, personal wedding gift for friends or family?  Custom wedding barrel heads can be used as a unique memento of a special occasion or can even be signed as a wedding guestbook! We offer a few designs that can be customized quickly with names, dates and initials.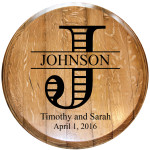 We reclaim these used barrel heads and seal and reinforce them to insure longevity. Each barrel head is hand-painted by Kentucky artisans with local KY style and flavor. Barrel heads are complete with wall hanging hardware installed.  You can order your very own custom wedding barrel heads by clicking here!
This is an example of one of our completed regular sized barrels heads.  This client selected one of our standard designs, customizing with their lats name initial, names, and wedding date.
Another client requested a "quarter head."  These barrel heads are complete with the metal hoop that originally held the barrel head and staves together.  The customer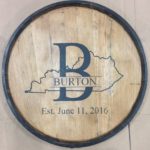 provided their own handles that would be added to make this item into a serving tray.  An extra layer of sealant was added to ensure durability and to allow wedding guest to sign it with a permanent marker.  We think this one turned out wonderfully and hope that the bride and groom will cherish it for a lifetime!
BarrelHeadsKY.com is a subsidiary of Lexington Furniture Company. Our store has been a staple of the Lexington, KY community for over 50 years. Our original location opened in 1960 on land that is now the site of Rupp Arena and Heritage Hall.  We produce a line of products from reclaimed bourbon barrels that were used in the production of bourbon in Kentucky.  All of our products are manufactured by artisans in the state of Kentucky.  A Kentucky Proud product.