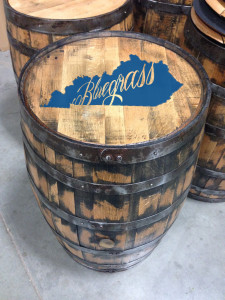 Whew!  We've been busy…  Welcome to our new Bourbon Barrel Blog!  BarrelHeadsKY is a new startup in Lexington, Kentucky, formed as a division of Lexington Furniture Company.  We are rehabbing old bourbon barrels that were used in the production of KY Bourbon Whiskey and transforming them into furniture, decorative accessories, and collectibles for bourbon fans.
As it turns out, there are more barrels of bourbon in Kentucky than there are people.  Sounds crazy, right?  At any point there are roughly 5 million barrels of goodness aging in the Bluegrass State, with approximately 4.5 million residents calling it home.  Once a barrel has completed it's whiskey aging tour of duty, it can no longer be used to make Kentucky Bourbon.  While most barrels are shipped away to be used in wine, scotch, or beer making, some are sold to entities like ours to be transformed into something new… something a bit awesome!
We are a Kentucky Proud company.  We use all Kentucky materials, and employ hard-working Kentucky artisans to do the work.  Stay tuned to our website for new product introductions, stories, and videos of us making some really fun stuff.  Thanks for stopping by!