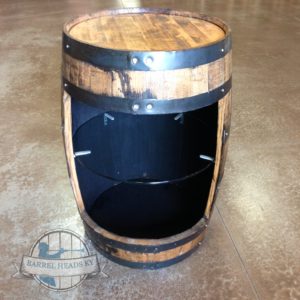 Are you the kind of person who wants to display their fine Kentucky Bourbons and high end spirits?  Well, this bourbon barrel with glass shelf is for you!
If you follow our social media, you know that we've been working on a couple of "top secret' projects.  This is one that we have been working on for a few weeks.  We wanted to make sure that it met not only the needs of our customers, but their aesthetic wants as well.  This reclaimed bourbon barrel has been very lightly sanded, sealed, and reinforced to ensure durability.  Staves have been removed to create an opening and a sturdy 1/2 inch glass shelf has been added.  The interior has also been lightly sanded and sealed to showcase the beautifully charred staves.  An LED light has been installed to keep your bourbon or other display items well lit.
Each barrel's head can be customized and hand-painted by Kentucky artisans with any of our available designs or custom designs.
Each barrel with glass shelf exhibits natural aged wood characteristics.  Each barrel is unique.  Imperfections in wood and gaps between staves are normal.  The imperfections in the barrels are what make them beautiful.  After all, they aged delicious bourbon whiskey for many, many Kentucky seasons.
We are happy to offer shipping via UPS Freight.  Full size barrels typically ship in 3-4 business days. Dimensions: 25″ length x 25″ width x 35″ high. Weight: 150lbs .  This is an official Kentucky Proud Product.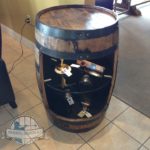 BarrelHeadsKY.com is a subsidiary of Lexington Furniture Company. Our store has been a staple of the Lexington, KY community for over 50 years. Our original location opened in 1960 on land that is now the site of Rupp Arena and Heritage Hall.  We produce a line of products from reclaimed bourbon barrels that were used in the production of bourbon in Kentucky.  All of our products are manufactured by artisans in the state of Kentucky.  See more Bourbon Barrel Furniture products by clicking here.