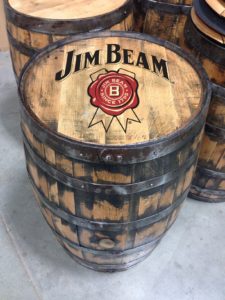 We are proud to say that we are now producing a line of officially licensed Jim Beam Bourbon Barrel Products!  The Jim Beam Brand has one of the longest-standing traditions in Kentucky Bourbon making, and it only makes sense that fans and bourbon aficionados would ask for Jim Beam logo barrels and barrel heads.
Jim Beam has a full family of bourbons, each unique, and expertly made by the Beam family, who has perfected the art of bourbon making over the last 200 years.  Growing up in Kentucky, I have many memories of driving past the Frankfort distilleries on the way to Church, or visiting the welcome center and distillery in Clermont.  There is even a 200 mile race that some of our employees have participated in the begins at the Clermont location.
We knew that we needed to get the most iconic brands of bourbon on our products.  As one of the producers that has re-focused on small batch bourbons, we are honored to use the Jim Beam logo on our barrels.  (And no,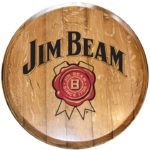 All of the materials for our products have been reclaimed from 55 gallon charred-oak barrels that were used in the making of Bourbon Whiskey in Kentucky.  After aging for many, many seasons in the heart of the Bluegrass, these used barrels are lightly sanded, sealed, and reinforced to insure longevity. Each barrel or barrel head is hand-painted by Kentucky artisans with the iconic Jim Beam logo. Barrel heads are complete with wall hanging hardware installed.  We have also received the honor of recognition as a Kentucky Proud product.
Explore what makes each of their products special and worthy of the Beam family name with a glass of their finest and the decor to celebrate it.  See more of our licensed bourbon barrel products by clicking here!