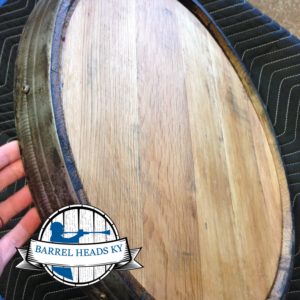 We've begun production of quarter barrel heads! These are barrel heads that have been cut directly from the barrel, leaving the metal hoop intact around the perimeter. These are larger, heavier, and stand off of a wall further than a typical barrel head.
We reclaim these used barrel heads and seal and reinforce them to insure longevity. Each barrel head is hand-painted by Kentucky artisans with local KY style and flavor. Barrel heads are complete with wall hanging hardware installed.
All of our current designs will be available.  Many of our customers are using the quarter barrel heads as serving trays, or have even used them as a guest registry for weddings.  Just sign the head with a permanent marker or paint pen.  We think this makes a very unique gift!  Plus, we can personalize with names, dates, and initials.
BarrelHeadsKY.com is a subsidiary of Lexington Furniture Company. Our store has been a staple of the Lexington, KY community for over 50 years. Our original location opened in 1960 on land that is now the site of Rupp Arena and Heritage Hall.  We produce a line of products from reclaimed bourbon barrels that were used in the production of bourbon in Kentucky.  All of our products are manufactured by artisans in the state of Kentucky.  A Kentucky Proud product.